Coloring Page #1117 - Funny Shark with a Cowboy Hat
Sorry, your internet browser is not compatible with this online game.  Please update your software with a newer version (Internet Explorer 11 or Microsoft Edge) or install another application (such as Google Chrome, Firefox, or Opera).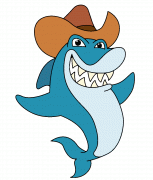 If you like to color pictures while you're online, just Pick a color from the palette and then, click on the picture area you wish to color!

To undo your last action, click on the eraser icon. To clear the coloring page to start over, click and hold down on the eraser icon.

To print out a black and white coloring sheet, use the eraser to remove all the colors in the picture, and click the printer icon! Then, color it with your crayons or your paints!